Communities With Brooms!
April 2009
On Thursday April 23rd, as one of the first events directed by the new Oshawa Community Safety Committee, JHS partnered with the City of Oshawa, DRPS, M.P. Colin Carrie, and the Downtown Board of Management in a sweep and clean of the core. JHS provided 8 staff and another 5 helpers to the cause, cleaning along Albert, Celina, and Ontario Streets, as well as the car wash on Bond Street. Here's a before and after shot of the results of just one spot our team worked on!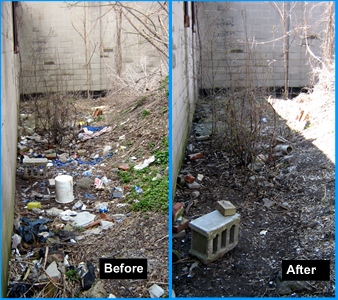 Many thanks to everyone who came out and participated, to Rogers Midday and the Oshawa This Week for helping to broadcast the news on this event.